Montreal Canadiens: Jacob de La Rose and Sweden are in the Quarter Finals


The Worlds are moving on to the plays and Montreal Canadiens centre Jacob de La Rose and Sweden are looking to capitalize off a dominating preliminary round.
The round robin at the 2018 World Hockey Championships is over. Eight teams have qualified for Quarter Finals extending the Montreal Canadiens representation at the tournament.
Charlie Lindgren and Team USA finished second in Group B with 16 points. The United States went 6-0-1 outscoring their opponents 39-16. Scott Darling and Keith Kinkaid have seen the bulk of the team's starts in goal. The closes Lindgren got to playing was when he backed up Darling in America's 13-1 shelling to Korea.
The Odds of the 24-year-old are pretty slim if he couldn't get some time in a dominating performance like that. Team USA will be taking on the Czech Republic in the first round of the Quarter Finals making it the se cond time Lindgren will see Tomas Plekanec as an enemy.
Jacob de La Rose and Sweden emerged as the tournament's best team. Leading all nations in points (20) and wins (6 in regulation, 1 in overtime), Sweden is by far the team to beat.
The 22-year-old has seen around 12:30 a game on the fourth line with Magnus Paajarvi and Johan Larsson. But coach Rikard Gronborg has also played him with Andreas Kempe and Victor Arvidsson at times.
It's been more of a defensive role for de La Rose considering the amount of offensive talent Sweden already has. However, the Montreal Canadiens centre found some offence scoring his first goal of the tournament against Slovakia. Kempe found de La Rose in front of the net to increase Sweden's lead to 3-1.
Their Quarter Finals start with Latvia who shouldn't be a problem seeing as the other teams they've managed to beat.
RELATED PRODUCT
NHL Montreal Canadiens iPhone 6/6s Skin - Montreal Canadiens Distressed Vinyl Decal Skin For Your iPhone 6/6s
Buy Now!More from Habs News
5/16 - Montreal Canadiens: The importance of roster stability
5/15 - Montreal Canadiens: The steps down the line for Alexandre Alain
5/14 - Montreal Canadiens: Will Bitten is a 2018 OHL Champion
5/13 - Montreal Canadiens: A Lou Lamoriello hire may influence John Tavares
5/12 - Montreal Canadiens: The Laval Rocket have a new divisional rival
Unfortunately, the Worlds ended for Markus Eisenschmid. Germany failed to qualify for the playoffs after finishing sixth in Group B with only two wins. The silver lining of their performance this year was that they were able to get a big victory against Finland.
Germany went into the third period with a 2-1 lead, but Sebastian Aho tied it up with nearly two minutes left. Things started to open up in overtime and Eisenschmid and Dominik Kahun found themselves on a two on one. It was great patience from Kahun to wait out the defending Finish player and pass it over to Eisenschmid for the winner.
Eisenschmid also had an assist in that game on Bjorn Krupp's 2-1 goal from the point.
Next: Righting the Wrongs of Missing Talent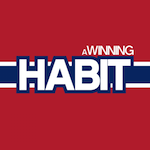 Want your voice heard? Join the A Winning Habit team!
Write for us!
It'll be interesting to see which Montreal Canadiens player gets the furthest in the tournament. Sweden looks to have the edge over everyone else which is good for de La Rose. After a trying season in Montreal, getting some gold may be a good way to finish his year.
Source:
Google News Sweden
|
Netizen 24 Sweden