Sweden builds first ever electrified road for charging vehicles as they drive


The world's first road that allows electric vehicles to recharge as they drive has been installed in Sweden.
Around 1.2 miles of electric rail has been built into a public road just outside Stockholm, and plans are in place to expand the project throughout other parts of the country and the world.
The electrified road works by transferring energy from the rail through a moveable arm on the bottom of an electric car or truck.
As the vehicle moves over the rail, the arm detects its location and moves into contact with it. When overtaking, the arm automatically raises.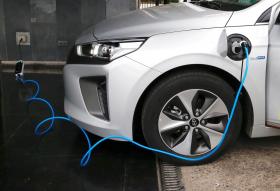 Sweden steps up hunt for cobalt as electric cars boost demand
The rail is connected to the power grid and d ivided into sections that are only powered when vehicles move over them.
Energy consumption of each vehicle passing over the rails is calculated by the system, enabling electricity costs to be charged to each user.
The electrified road is being trialled using electrified trucks that have been developed as part of the project.
"One of the most important issues of our time is the question of how to make fossil-free road transportation a reality," said Hans Säll, chairman of the eRoadArlanda consortium, which is responsible for the project.
10 photographs to show to anyone who doesn't believe in climate change
10 photogr aphs to show to anyone who doesn't believe in climate change
1/10

A group of emperor penguins face a crack in the sea ice, near McMurdo Station, Antarctica

2/10

Amid a flood in Islampur, Jamalpur, Bangladesh, a woman on a raft searches for somewhere dry to take shelter. Bangladesh is one of the most vulnerable places in the world to sea level rise, which is expected to make tens of millions of people homeless by 2050.

3/10

Hanna Petursdottir examines a cave inside the Svinafellsjokull glacier in Iceland, which she said had been growing rapidly. Since 2000, the size of glaciers on Iceland has reduced by 12 per cent.

4/10

Floods destroyed eight bridges and ruined crops such as wheat, maize and peas in the Karimabad valley in northern Pakistan, a mountainous region with many glaciers. In many parts of the world, glaciers have been in retreat, creating dangerously large lakes that can cause devastating flooding when the banks break. Climate change can also increase rainfall in some areas, while bringing drought to others.

5/10

Smoke â€" filled with the carbon that is driving climate change â€" drifts across a field in Colombia.

6/10

A river once flowed along the depression in the dry earth of this part of Bangladesh, but it has disappeared amid rising temperatures.

7/10

Sindh province in Pakistan has experienced a grim mix of two consequences of climate change. "Because of climate change either we have floods or not enough water to irrigate our crop and feed our animals," says the photographer. "Picture clearly indicates that the extreme drought makes wide cracks in clay. Crops are very difficult to grow."

8/10

A shepherd moves his herd as he looks for green pasture near the village of Sirohi in Rajasthan, northern India. The region has been badly affected by heatwaves and drought, making local people nervous about further predicted increases in temperature.

9/10

A factory in China is shrouded by a haze of air pollution. The World Health Organisation has warned such pollution, much of which is from the fossil fuels that cause climate change, is a "public health emergency".

10/10

Water levels in reservoirs, like this one in Ge rs, France, have been getting perilously low in areas across the world affected by drought, forcing authorities to introduce water restrictions.
"We now have a solution that will make this possible, which is amazing."
"Sweden is at the cutting edge of this technology, which we now hope to introduce in other areas of the country and the world."
The advantage of electrifying roads is that existing infrastructure can have its energy consumption and carbon emissions reduced with minimal modification.
weden is already a world leader in clean energy, and in 2015 Swedish Prime Minister Stefan Löfven announced his country would move towards becoming "one of the first fossil fuel-free welfare states in the world".
How Sweden became one of the most innovative countries on earth
The project being run by eRoadArlanda is one of several attempts by the Swedish Transport Administration, a government agency, to create electrified roads.
It is part of a wider effort by the Swedish government to make the country's transport infrastructure completely fossil fuel-free by 2030. As it stands, road traffic accounts for a third of Sweden's carbon emissions.
"It is important to break new ground when it comes to climate-smart road transport," said Lena Erixon, director general of the administration.
"That's why the Swedish Transport Administration supports innovative development projects that contribute to long-term, sustainable solutions."
Those behind the initiative estimate that only the major routes â€" around 3 per cent of the total road network â€" would need to be modified to considerably cut carbon emissions. Shorter journeys bet ween these major routes could be undertaken using vehicles' stored battery power.
More about:
electric vehicles
Green Energy
Sweden
Reuse contentSource:
Google News Sweden
|
Netizen 24 Sweden